So I have a confession to make. Trying to find a decent Banh Mi near me was the inspiration for this blog, but the first time I went to Vietnam I didn't even get around to having one! Shocking as it's considered by many as the best sandwich in the world, and who doesn't love a sandwich?
When I'm planning a trip I usually write a list (bloody love a list!) of food I want to try and a shortlist of restaurants. I also love wandering and just diving in somewhere that looks good, but it's always good to have a backup plan. Holidays are precious and it's painfully disappointing to feel like you've wasted the chance to have an amazing meal when a little bit of planning can help you to avoid mediocrity – obviously, it doesn't always go to plan, but I do try!
When we first visited Vietnam, the Banh Mi was on the list, but for some reason, it just never came to fruition. At the time it didn't bother me, but now when I look back I wonder why we didn't have one for every meal – well except breakfast, breakfast is definitely for Pho (I'll cover that in another post).
On an epic 7 week Far East adventure, it was time to visit Vietnam again, this time Ho Chi Minh was the destination of choice. Our previous visit to the country included Hoi An, Hanoi and Halong Bay, so this time it was an ideal opportunity to try somewhere new. Albeit somewhere that didn't make the cut on the first visit.
My research revealed two 'famous' places to get Banh Mi close to our hotel so naturally we tried both! I did wonder how different a baguette could really be, but they did have some unique characteristics. First, I feel I have to explain why I love this sandwich so much and why it might possibly be the best sandwich in the world…
What's in a (Banh Mi) Sandwich?
The French influence provides the baguette, but it's not like the baguettes you get back home in the UK, or even like the ones I've had in France. I'm sure my description won't really do it justice, but if you've tried it, you'll know exactly what I mean! It's crispy and light, not heavy and doughy (not sure that's a word!) or dry. The crust is almost flaky meaning it's impossible to eat without crumbs going everywhere. The baguette, it turns out, will be my biggest adversary when it comes to trying to replicate the Banh Mi.
The fillings can vary, but for me, there are a couple of staples that 'make the sandwich' – the combo that delivers bite after bite of deliciousness. Pâté adds a savoury unctuousness and meaty background flavour (they do have vegan and vegetarian options too, but I didn't go down that route – soz). Next is the meaty filling of choice, usually multiple luncheon-style cuts piled high and the icing on the cake – the tangy and crunchy pickled veg and fragrant coriander. I've just had dinner but actually making myself hungry just writing about this.
The taste test
The two places we tried I read about in a blog from Mark Wiens – he knows his stuff and was spot on with his descriptions. 
Up first was Banh Mi Huynh Hoa – it was heavy on the meat, and I mean literally heavy, this thing weighed a tonne and I had to eat it over 2 sittings. It was absolutely delicious though and a bargain for the amount of food. You buy it basically just standing on the street. The place won't get any customer service awards, but they are quick and efficient, if not overly friendly! Top tip – don't get bullied to the back of the queue by the Grab food delivery guys (their version of deliveroo).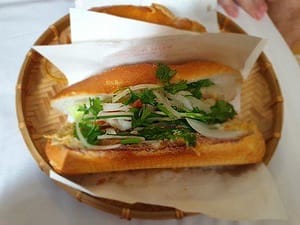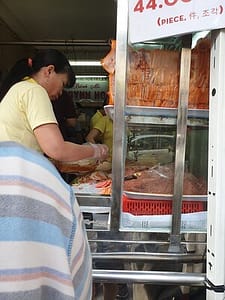 The second place we tried was Bánh Mì Hồng Hoa. They were equally as lip-smackingly tasty, but they were less meat-heavy and a bit smaller (and cheaper). However, they were packed with pickled veg. I'd happily go back to either and wish they'd open a global franchise, starting with one at the bottom of my road – sticking to the Vietnamese pricing obviously!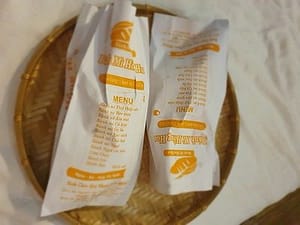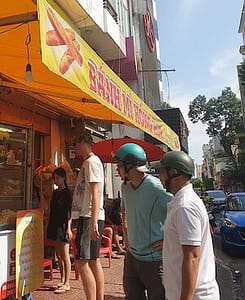 The struggle to find one at home is real
I have to say that I was surprised that couldn't find somewhere selling these within about a 20-mile radius of where I live. I am in a city after all and there are several Vietnamese restaurants, but none that offer the Banh Mi. So I have been reduced to trying to attempt one for myself. I searched for recipes online, but a fatal error seemed to be the part when they simply said 'slice a baguette'. Obviously, this is entirely possible, but I knew instantly it would never be remotely the same – I had to bite the bullet and try and make it from scratch.
Back to the drawing board and a new search revealed that 'it takes years for Vietnamese bakers to master the art of the Banh Mi' – balls! I may have bitten off more than I can chew. Don't get me wrong, I like to cook, but I am about as far removed from being on the great British bake off as a person can be!
This was my first (and hopefully not last) attempt at baking bread.
Ironically the actual filling seems like a walk in the park – who knew?