Bangkok is the most visited city in the world!1. Despite its distance from the UK, it's a city I've been to more than any other (except those I've actually lived in). It's so vibrant, full of amazing sights, sounds and smells. You know that you're somewhere unique, and the best bit, it really does offer something for everyone.
One of my favourite things about Bangkok is the contrast you experience in pretty much all aspects of the city, from eateries to shopping. You can go from what some people might describe as quite dingy, to 5* luxury in the blink of an eye – I love it all. 
So, whether you're looking to be pampered or are travelling on a tight budget; or like me, you revel in jumping from one to another, Bangkok could just be the city you're looking for. 
Food – Grab that plastic stool!
There is almost an overwhelming choice of restaurants in the City of Angles, covering every type of food you can imagine. We've had some amazing curries (Tandoori lobster – yes please!), melt in the mouth steaks and juicy burgers. But, let's be honest, if you're travelling all the way to Thailand, the local food is definitely the way to go, well at least until you hit rice boredom.
Sitting on the side of a traffic packed street on a plastic stool may not be your idea of a romantic meal – to be fair, it's not mine either. But, if you're after delicious local food at a steal (compared to western prices), pull up a flimsy stool, order by pointing, get a local beer and get stuck in – you won't regret it!
Unfortunately one of my favourite places to eat is a shadow of its former self – Soi 38 was a great place to try some Thai classics in one place, but it's become a casualty of progression. China town is still going strong and seafood is a speciality there, so take a wander and grab what takes your fancy – if it's got a queue, chances are it's pretty good.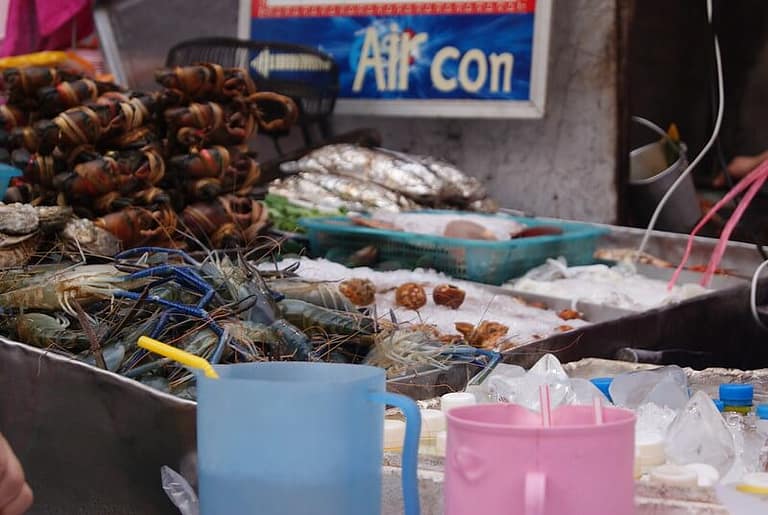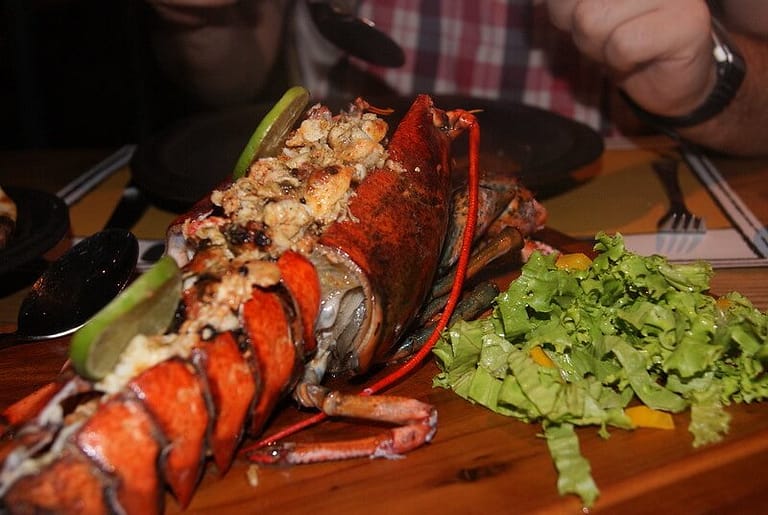 In the UK I usually steer well clear of a shopping centre food court, I've certainly not recommended one to a friend! I find them soulless places, built for convenience rather than any kind of experience (although I think that is slowly changing). However, in Bangkok come lunchtime, I often find myself tucking into a plate of rice with crispy pork or duck and noodles, in a bustling food court. The food is tasty and bargainous – once you manage to nab yourself somewhere to sit. Also, if you're a newbie to the Far East it's a great introduction, the food courts are clean (some even have stands to sanitize your cutlery), there is a good choice of classic dishes to try and as the portions tend not to be huge, it's the perfect opportunity to try more than one dish – win-win!
One thing's for sure, it's impossible to go hungry in Bangkok. 
Drink – From dizzying heights to street-side dives
If you can't find a bar you like in Bangkok, chances are it doesn't exist. There are rooftop bars with amazing views of the city and happy hours make them the ideal choice for a sundowner (or 2). Most of the 5* hotels have a rooftop bar, so there are heaps to choose from. On our most recent trip, we stayed in the new Hyatt Regency and the Spectrum bar is definitely worth a visit – great views and well-made cocktails. Nest is also really fun and a bit different, a more relaxed vibe with cabana-style seating and a sand floor. 
When you run out of clothes (and shoes) that meet the strict dress code, the dive bar comes to the rescue. I adore these bars. They are little more than wooden shacks on the side of the street, but provide ideal people-watching spots and a fun place to meet people – but a word of warning the 'facilities' can be a little bit sketchy! Cheap Charlies is my all-time favourite and something of a Bangkok institution. It used to be based on Sukhumvit Soi 11, a nightlife hotspot, but has since had to move. The new location, unfortunately, doesn't have the charm of the old spot, but for us, it's still a great place for a nostalgic visit. As the name suggests, it's pretty cheap too!
And, if neither of those options floats your boat, there are heaps of other options in between. Trendy gin bars with low lighting, cool artwork in traditional Chinese chop houses (Teens of Thailand, I'm thinking of you). Loud and spacious sports bars – if you're a fan of the Premier League they show pretty much every game. 'Secret' bars with hidden doorways or codes to get in – Havana Social takes you to back in time to Cuba, complete with a cigar bar. There are also the infamous 'go-go' bars if that's your thing. A walk through Soi Cowboy is certainly an eye-opening experience!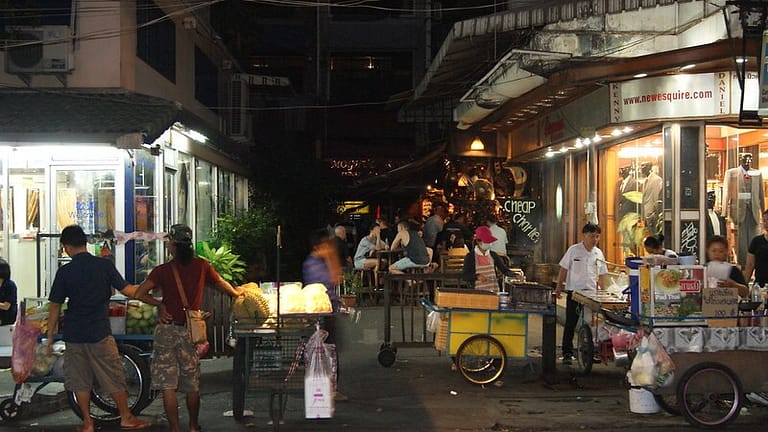 Shopping – Crowded stalls to shiny malls
Bangkok is famed for both its markets and shopping malls – if you like shopping you'll never be bored and there is literally something to suit all tastes as well as all budgets. 
You can spend hours wandering the vast rows of stalls at the Chatuchak weekend market (as the name suggests it's only open at the weekend). And when I say vast, I'm not exaggerating, this place is huge. Apparently, it's the largest market in Asia. 
Top tip – if you see something you like, buy it then and there as the chance of you being able to find the stall again is pretty slim, speaking from experience! Also, take some water with you (I carry water wherever I go), it's an outdoor market with quite a lot of stalls undercover, but there is no aircon, so you can find yourself becoming a sweaty mess pretty quickly. 
There are also numerous smaller day and night markets all over the city, the choice feels endless. Although you'll see a lot of the same type of products – elephant pants anyone?
In contrast, there are some shiny, glossy malls to explore. Even if you're not into shopping you'll likely find yourself in one at some point for either the aircon, the food courts or the nice toilets! The new IconSiam centre is right on the river with a free shuttle boat which takes you from the nearest Skytrain stop. It's pretty impressive with a mix of high street brands, designer outlets as well as car showrooms! I wasn't that inspired by the options in my price range (a brand new Maserati was a bit out of reach!), as it's the familiar brands you can find elsewhere, but it was worth a visit for the unique food court styled on a floating market.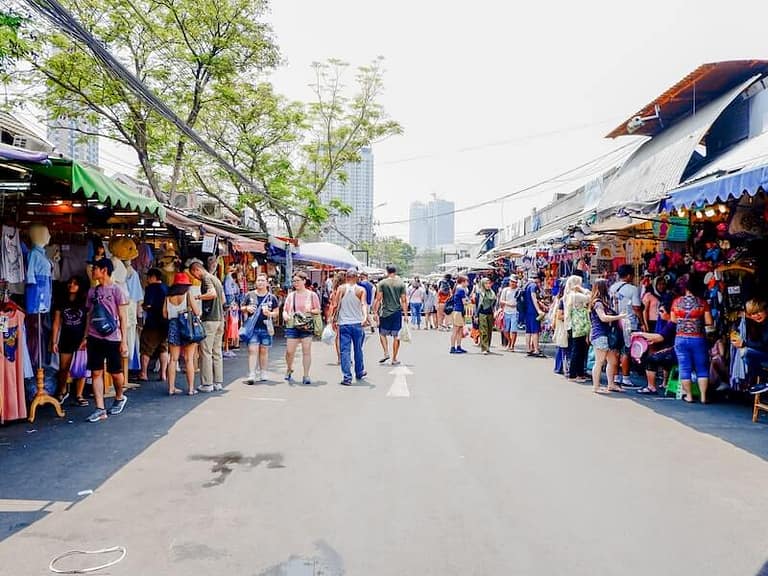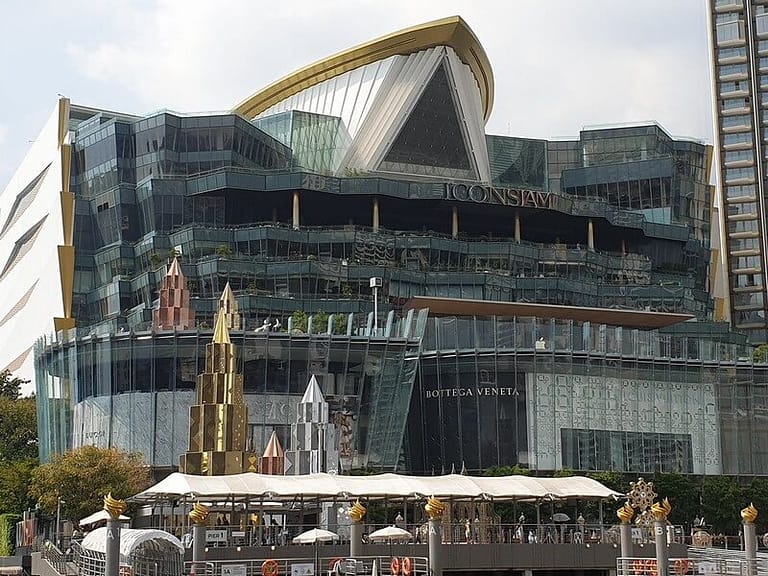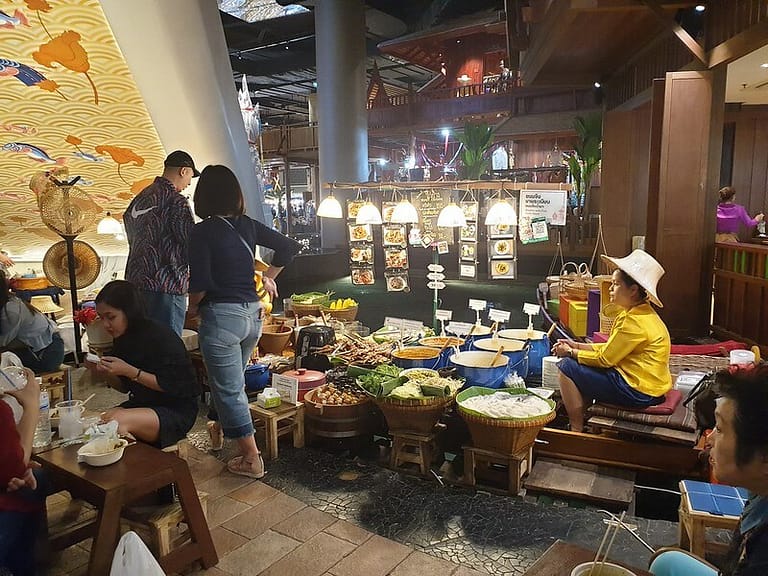 Leisure Time – Teeming streets to tranquil parks
The traffic in Bangkok is as bad as people say. Walking around the city tends to be a hot, sticky, noisy and sometimes smelly affair – I'm not trying to put you off, it's all part of the fun! However, after days of sightseeing (you would probably never run out of temples to visit), bustling markets and generally immersing yourself in the city, you might find yourself longing for a green open space – Bangkok doesn't disappoint. The city has lovely parks which are easy to get to and provide a little sanctuary in a crazy city.
They are great for a simple walk, spotting some wildlife like monitor lizards and turtles, and catching some sun and relatively fresh air. Or if you're feeling a little bit more active there are tracks for running and cycling. Depending on your hotel you may be blessed with a rooftop pool. There is something heavenly about cooling off high above the bustling streets – the perfect way to recharge.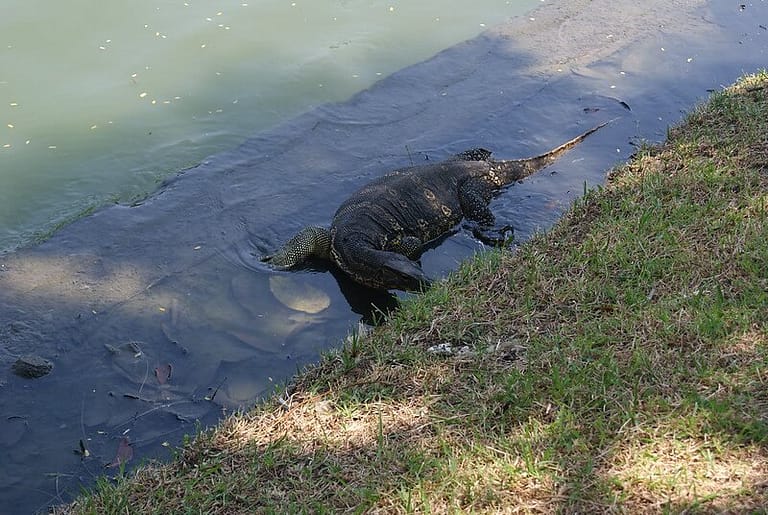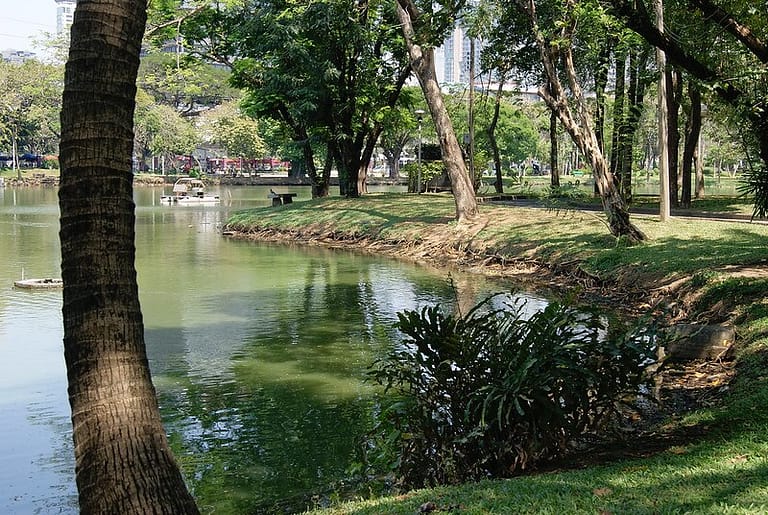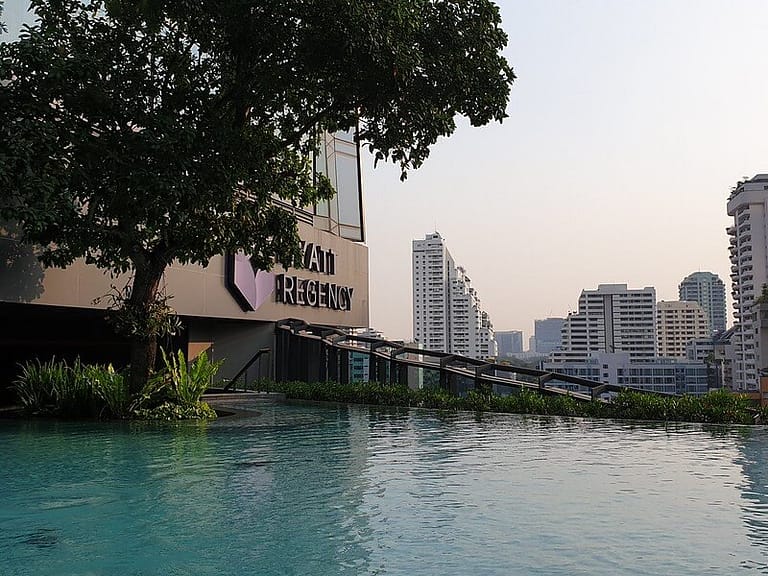 What do you love about Bangkok? If you haven't been, are you tempted to add it to your bucket list?
Sources; 1. Forbes