Discovering mainland Greece
If you were to Google pretty Greek fishing villages, Agios Nikolaos should be top of the results (in my humble opinion). However, part of its charm is that although popular with those who discover it, being on the mainland, it remains relatively unknown, when compared to the bustling popular island resorts.
Agios Nikolaos is on the Southern tip of the Greek mainland, in the Peloponnese region, an area referred to as 'The Mani'. To get there you can fly into Kalamata airport and then it's about 1hr by car into the village. It's also possible to travel down from Athens – we've heard it's an easy drive, but it's not one we've down ourselves yet. 
Interesting fact – Kalamata is the airport shown in the film Before Midnight, starring Ethan Hawke which was filmed in the area.

It's not to be confused with the Agios Nikolaos in Crete (and I'm sure there are many other as well!) We've heard that some people have turned up expecting to be on an island – they've never been too disappointed in the end though. Us regular visitors, affectionately refer to it as Ag Nik and you may also hear it called its original name, Selinitsa.
The pretty, traditional & unspoilt Greek village of Agios Nikolaos
Agios Nikolaos goes down as one of our best holiday discoveries. Around 12 years ago we were looking for a cheap European holiday for a few weeks, as you do! Thomas Cook came up trumps with this little beauty. There was only one accommodation option which we snapped up for the bargain price of £300 (all in for 2 people, flights, transfers and accommodation) – turns out it was a once in a lifetime price, which we've never been able to replicate or even get close to – believe me, we've tried!
We stayed at the Litsa apartments which I think is where many people start their love affair with this beautiful slice of Greece. We did look up some photos of the village before we arrived, but nothing quite prepared us for our first glimpse. 
Litsa is up a slight hill just outside the heart of the village. As you follow the road down and around the corner, you're greeted by a picture-perfect harbour, complete with glistening crystal clear water, pretty bobbing fishing boats, lined with stone-built traditional tavernas.
I used to question why people travel to the same places again and again when there are so many wonderful places in the world to explore. Agios Nikolaos is the place that made me think differently. We've been back many times now.
Over the years some things have changed, restaurants and bars have come and gone, but the atmosphere and feeling we get when we're there, doesn't waver.
What makes Agios Nikolaos special?
Ag Nik is a fishing village and you can see the daily catch being bought in and sold in the harbour daily. 
You can't go to Kalamata without trying the amazing olives and olive oil. On one stay our welcome pack from the accommodation included some olive oil from their own trees and sea salt which is collected locally from the rocks – talk about a super host! The olive oil can be bought in all the shops and always makes for a great gift for any foodies in your life.
Fresh spring water
One thing we noticed when we first arrived were taps around the village and we were pleasantly surprised to find out that it's drinking water that comes down from the mountains. I avoided it one year after there had been a storm not long before we arrived which had caused some damage, but other than that we've never had any issues. It's not always ice cold though, so you're best to fill up bottles as soon as you can and store them in the fridge until you need them. 
Traditional food
The tavernas and bars centre around traditional Greek food, but the menus are quite large so there's plenty to choose from. The service is typically very friendly, and Greek in speed!
Although the village is small there are enough options so you can still have the daily delight of deciding where to eat. One of my personal favourite parts of the day.
Beaches & swimming spots near Ag Nik
Pantazi (the village beach)
Let's be honest, you're not going to get confused and think you're in the Caribbean, but the beaches have their own charm. 
Pantazi is the beach closest to the village. It's about a 15-minute easy flat walk. Be warned though, there isn't much shade and it can get hot! It's a mix of sand and pebbles, but with glistening inviting water. It can get a bit wavy, but generally, it's great for a refreshing swim. I would recommend sea shoes to help with the otherwise inevitable wobbly hobble in and out of the water.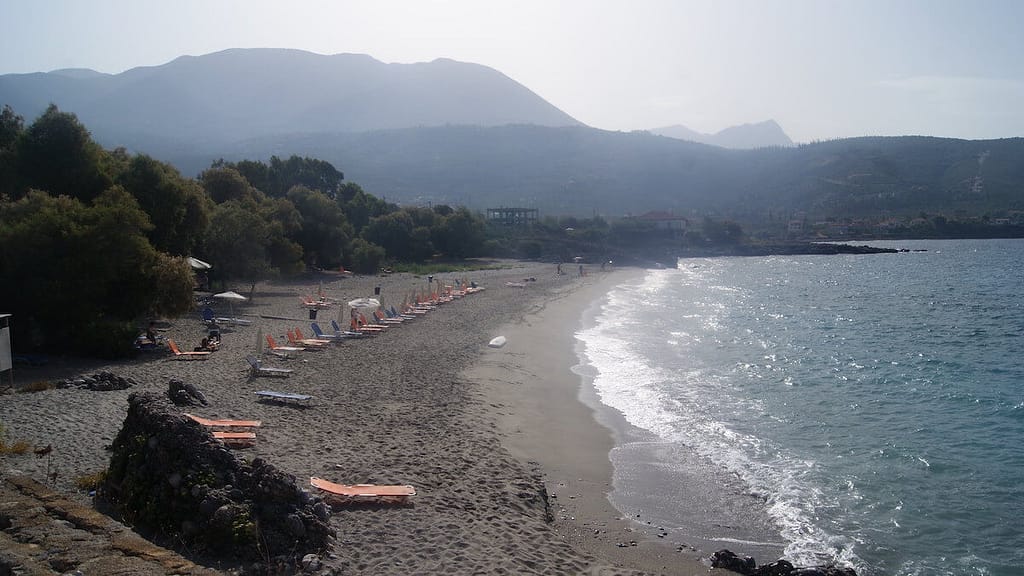 Outside of the high season, you don't always get charged for the beds and umbrellas, but typically they'll ask you to purchase a drink (not just water), in exchange for the comfort of being lifted off the pebbly beach.
There is a beach taverna shaded by pine trees, which is a good spot for lunch or a chilled afternoon walk before a lazy wander back to the village. 
Just round the corner, there is another rest stop in the form of another, more formal taverna. With views over the beach and back to the village, the wonderful terrace shaded by vines is our go-to spot for a greek salad, plate of tasty whitebait and an ice-cold drink when we've been soaking up the sun. Much like the rest of the village, the food options are centred around traditional Greek dishes, the service is friendly and laid back. 
Top tip – the toilet here is heads and shoulders better than the one found just behind the beach! 
Gnospi  – your jumping off spot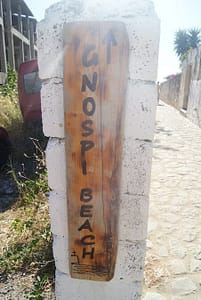 This is a fun place to spend a few hours. The turnoff to it is just at the beginning of the Stoupa coastal pathway. There are some steep steps down, so won't be suitable for everyone, but it provides a change from the beach and well worth a visit for the stunning colour of the water that awaits you – particularly if you class yourself as a bit of a water baby. There is no beach, just a few stones for sitting and drying off. 
It also pretty slippery getting in and out, so watch your step!
Delfini
This beach is out of Agios Nikolaos and you do really need a car or taxi to get there. Again it's not very accessible with a steep slope to the taverna that sits above the beach and what can be best described as rickety steps with a dodgy handrail to reach the beach itself.
But, my god, is it worth it (IMO).
The beach itself is quite pebbly, so you benefit from a chair or mat under your towel, but the piece du resistence is the flat, calm sea, that stretches out like an immense mirror. We usually travel in September, outside of peak holiday season and we only ever encounter a handful of people at the beach. Pure bliss.
Taverna is probably a bit of a grand description if I'm honest. You order from one hatch and they'll ring a bell to let you know your order is ready to collect. It's a great spot for a light lunch and an ice-cold drink, plus it offers some welcome shade when you need it. You can also grab the key for the toilet from the ordering window.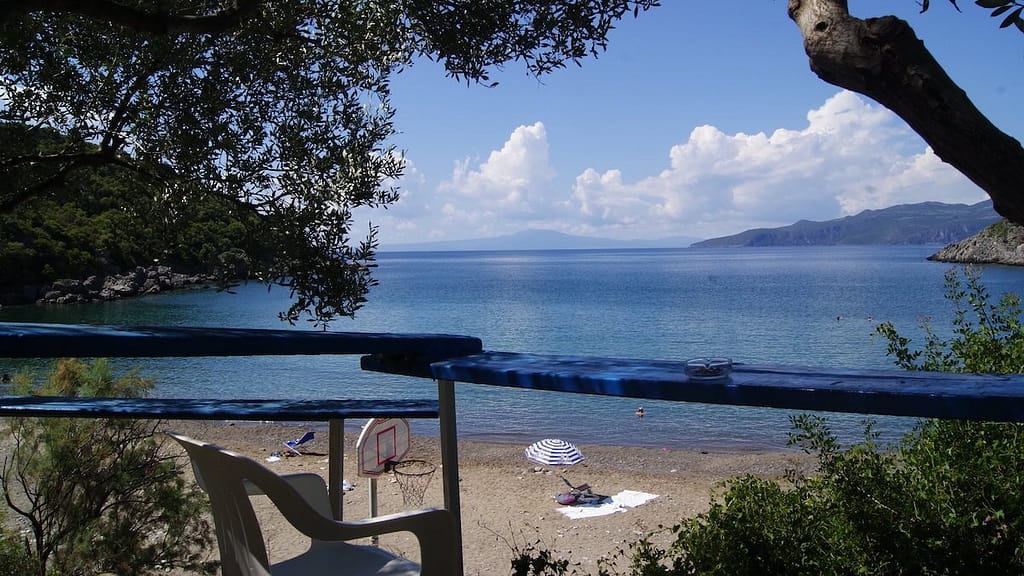 Things to do in and around Ag Nik
Stoupa
The surrounding countryside is stunning and there are a few places within easy reach to visit. Either walking, on the local bus or you might want to rent a car.
Every trip we do the walk to Stoupa, the larger resort just along the coast. There is a coastal path the whole way and it takes about 40mins to an hour to stroll each way – if you're lucky you might even spot a little tortoise on the path. If you don't fancy the walk both ways,  if you time it right you can walk one way and bus it the other.
Stoupa is a purpose-built resort and has a couple of pretty sandy beaches as well as tavernas, a few bars and a couple of shops so it makes for an easy day trip out if you fancy a change for Agios Nikolaos.
Agios Dimitrios
If you've walked to Pantazi, you continue walking around the coast and within about 10-15 mins you'll reach the little harbour of Agios Dimitrios. And, if you think Agios Nikolaos is small, Agios Dimitrios makes it look cosmopolitan! 
There are a handful of small boats and it's pretty to see, but there's not a lot to do here. In recent years a bar has opened about halfway along the walk.
Kardamyli
If you travel to Agios Nikolaos from Kalamata airport you'll go through Kardamyli. It has a pretty high street and some cute boutique style shops to spend a lazy afternoon browsing. There are a few beaches and swimming spots here too, so don't forget to pack your cozzie. The bus is an option to get here as well.
There are also some lovely tavernas with great views from shady terraces, so take a wander through the streets and see where takes your fancy.
Limeni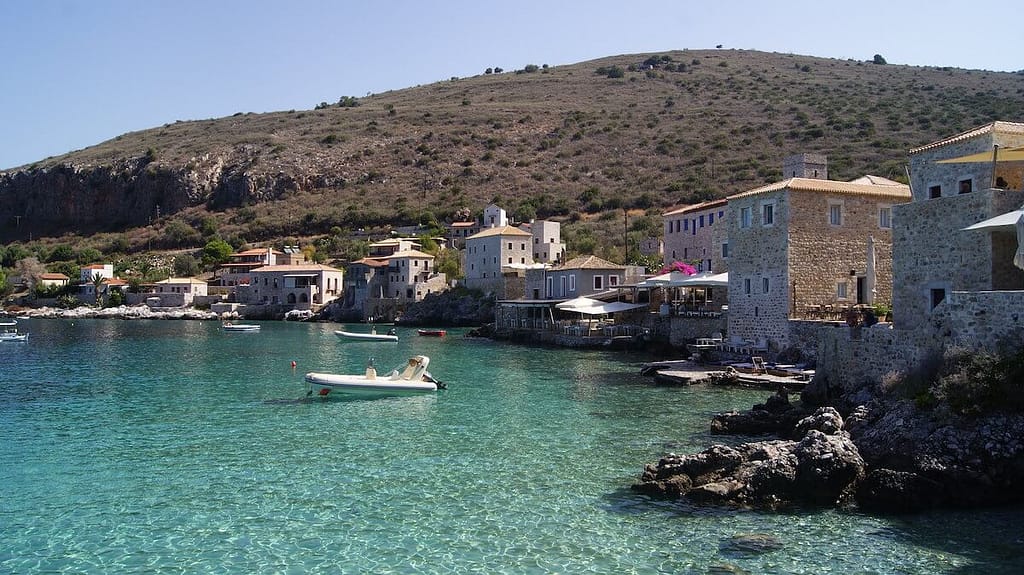 This is a bit more of a journey, but when you see the photos I think you'll agree it's worth the effort. I wouldn't recommend planning a whole day here though as although the swimming is bliss and there is soft sand as you wade into the water, there is no beach and not really many places to sit and relax. If you have the option, bring a chair!
There are a handful of tavernas here, perfect for soaking in the view while you wait for your fresh seafood to be cooked. 
Turtles are quite often spotted here too. They are my favourite so, obviously, I have to try and spot them every time – no luck so far, but makes for a great excuse to keep going back.
Pigi
If you're a bit of hiker and like to explore the countryside there are some excellent walking options in the area. We walked to Pigi on our last trip which is in the mountains (think large hill not abseiling). The scenery is stunning and helps take away some of the guilt from eating feta and ice-cream!
If you're the outdoor type you can also hire bikes in the village, although be warned, the terrain nearby is hilly and windy, so may not make for the most relaxing of activities!
Festivals
The village is home to a few festivals each year – we've not managed to make all of them, but they're worth checking out if they coincide with your dates. The village tends to attract a crowd then and the tavernas and bars are bustling with tourists and locals, chatting, eating, drinking and even enjoying the odd dance in the street.
Just spend a day in the village
Ok, so this doesn't count as an activity or a trip, but you can really appreciate the village by just spending a day around the harbour. You can lazily move around the tavernas, take a gentle meander around the backstreets and generally just inhale all the peacefulness on offer. Breathe. Relax. You deserve it.
---
Wow! For such a small place, I sure had a lot to say.
So, thanks for sticking with me. I'll have to do a separate blog highlighting our favourite accommodation, tavernas and bars.
Agios Nikolaos is in a stunning part of Greece which seems to be a little less travelled than the islands, at least for the British tourist. It's certainly not a party place, but it is a vibrant, unspoilt, pretty Greek village that may just steal a little piece of your heart.