What is Hokkien Mee
This wasn't a dish I was familiar with. I'm sure there must be places in the UK that you can find it (or at least some kind of version of it), but if you can, I've never had it or remember seeing it on a menu.
In my hunt for famous dishes you have to try, I was drawn to Hokkien Mee as I love a good noodle dish and it also didn't seem to contain eggs or nuts – bonus! Neither will kill me, but I'm not a fan, which is slightly problematic in the Far East, as eggs and nuts seem almost as common as rice!
The main way I'd describe Hokkien Mee is salty and silky. It mixes prawns, pork & some token veg in a richly dark soy sauce dressing. It's  utterly delicious and moreish.
My Hokkien Mee Discovery
Part of my unofficial role when we go on holiday is to plan out the finer details. And, I bloody love it. I've heard it said that the build-up to a holiday is half the fun and I have to agree.
I don't like to plan out every second, it's not a military operation, but it's nice to have a few ideas and a bit of a short-list. Still leaving time to wander, get lost and linger wherever takes our fancy.
One thing I've started to do is to note down the food I want to try, and potentially the best places to sample it.
There are so many amazing dishes to be had, so a bit of planning helps me to feel like I won't miss out. It also provides a bit of direction, rather than endlessly wandering to see what might look good (although we do a fair bit of that too!).
It also helps to have done a bit of research when you're faced with a vast menu, or when English names and description are somewhat limited.
In Vietnam, the priority was to hunt out possibly the best sandwich in the world, the Banh Mi. When it came to Malaysia, there were a few on the list, but the top pick for me was Hokkien Mee. I'm delighted to confirm, that it didn't disappoint.
Where to eat Hokkien Mee
I savoured Hokkien Mee in Kuala Lumpur and also the KL Hokkien Mee version in Penang, Malaysia. Before we went away I actually didn't realise that there were different versions of this dish – my bad.
I have to confess, we went quite touristy when it came to trying this dish. In KL we were to the famous Bukit Bintang market. Although I'm sure there are places to have more traditional food at better prices, it suited us. It was close to our hotel, has loads of choice and a great buzz about it.
It's not glamorous – it's a plastic table and chair affair, but it's fun.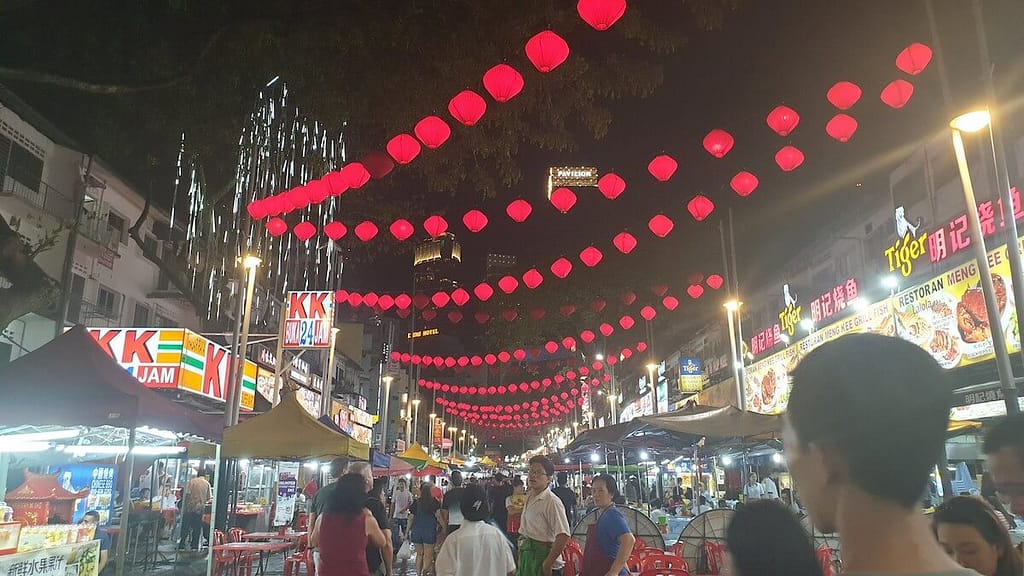 It feels very multi-cultural with people from all parts of the world tucking into delicious food and trying dishes for the first time, or having their old favourites. Even if you don't fancy eating there, it's worth a walk through just to soak up the atmosphere.
In Penang, I sampled KL style Hokkien Mee again at the Jetty Food Court, which is known for where the late great Antony Bourdain tucked into some Malaysian delights. Again, this place is definitely not fine dining. You won't find any tablecloths or glasses.
But, it's a feast for your belly and a great place to go if you're not quite sure what you want. You're bound to find something that takes your fancy and there's an array of stalls to pick from.
A healthier take on the KL Hokkien Mee
Hokkien Mee was another dish I wanted to have a stab at making myself at home. Unfortunately, once again it wasn't that straightforward!
I found a few recipes online and they called for a certain type of noodle and a specific dark soy sauce. I made a beeline for our local Asian market, but no luck. I even tried looking online, but couldn't find anything that seemed right, that would arrive quickly.
Back to the drawing board.
I did some more recipe hunting and found a healthier take on the traditional dish. This was pretty appealing as the original seems to contain quite a bit of lard 😱 and it would be nice to have a version that wouldn't need to be relegated to the once a year pile.
I adapted the recipe I found on what to cook today.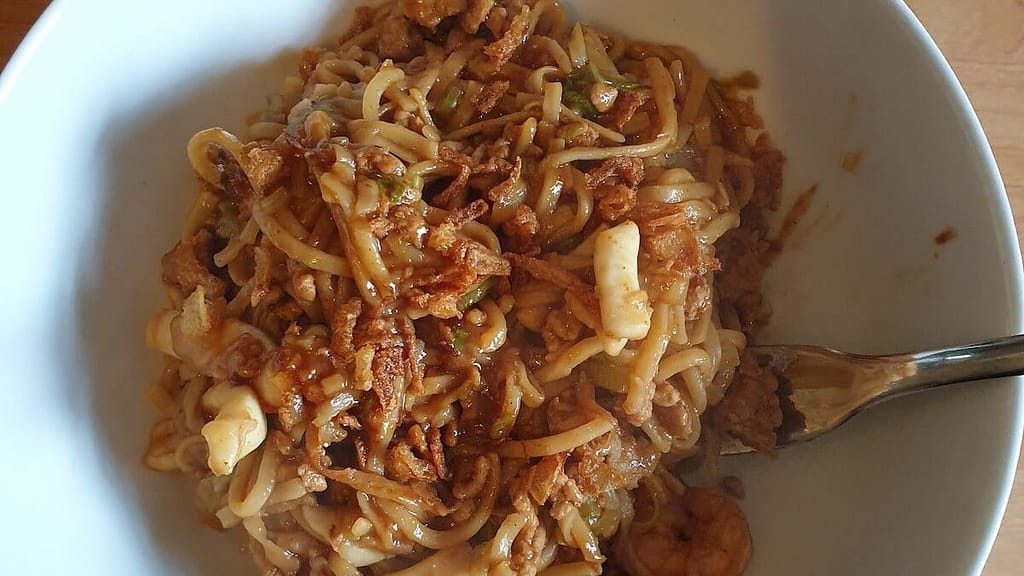 Although it wasn't identical to the one I had abroad, it did transport me back to the busy street food markets, and that's good enough for me.