Polperro is a traditional fishing village, in South Cornwall. It's close to the larger, and more commercial seaside town of Looe. We did the drive from Southampton, and it takes around 4 hours with a quick comfort break on route. When you hit the Tamar bridge just past Plymouth you know you're entering into Cornwall.
So, if you're wondering why Polperro is worth visiting (which I definitely think it is!), read on to find out more about this cute harbour.
The drive into Polperro itself takes you through some pretty countryside as well as some windy lanes, where I found myself hoping that we wouldn't meet a tractor travelling in the opposite direction. Safe to say, we arrived unscathed.
First Impressions
One of the unusual and distinctly delightful things about the whole village is that to all intents and purposes, it's mainly pedestrianised. Visitors are encouraged to park on the outskirts due to the lack of parking in the village itself. I was quite grateful for that, as the roads are really, really narrow – the kind when you find yourself breathing in as if that will somehow miraculously shrink your car! You see the occasional vehicle doing a delivery, but other than that the only other 'traffic' was a quad bike with a trailer which provides a handy luggage transportation service. We opted to lug ours up and down the steep hill ourselves – not for the faint-hearted!
Polperro feels like you're stepping back in time. It looks like it's barely changed in millennia, well, at least on the surface anyway. We even found a video on YouTube of a soldier returning to the village after WW2 and it all looks uncannily familiar. It's amazing to see how many of the buildings appear exactly the same. When you look closely there are the signs of development, but nothing too in your face. You get a nostalgic feeling just walking around the village, soaking up its relaxed charm, even on a first visit. We do love a traditional village, no matter where it is in the world, so it wasn't a surprise that Polperro wangled its way onto the list – maybe more shocking was that we hadn't discovered it earlier.
The village is so peaceful – or at least it felt that way to us. The only real noise at night or early in the morning were the dreaded seagulls – which can make a bit of a racket, but they didn't disturb us, we slept like babies. In other good seagull news, these weren't overly aggressive. If you've experienced the vicious nature of those in Newquay you'll be as relieved as I was. There, you have to keep a watchful eye out, otherwise any kind of food, regardless of whether you're in the middle of eating it, is likely to be swiped. Still, I was mindful of my fish and chips – they were all 'mine, mine, mine' (hopefully you've seen Finding Nemo!)
Where to stay
We managed to nab a bright, modern apartment that overlooked the harbour. It has a bedroom with an adjoining shower room, plus a large living/kitchen area. Perfect for a stay for 2. But, the main selling point was the killer view – it's a good un'. We clocked up numerous hours just staring out of the window with a drink in hand.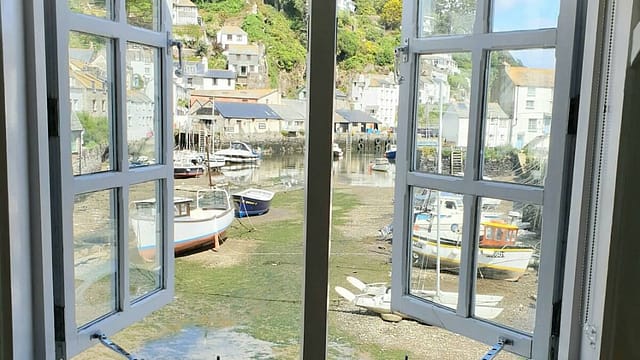 The other great benefit of this accommodation is that it comes with a parking space close to the entrance to the village. There is a larger public car park available, however, this can add a fair amount to the cost of your stay, so something worth checking before you book.
We found the accommodation on booking.com and there are also numerous properties available on Toad Hall cottages too.
There is a good range of accommodation in Polperro but we've seen that availability can be a problem – it's a popular little place!
What to do in Polperro
There's plenty to keep you occupied for a long weekend stay.
Under our apartment was a cute art gallery with an in-resident artist, Gina Farrell. We decided to buy a lovely memento which captured the village view. Now sat proudly sat in our dining room. If you make it to Polperro, it's worth popping in to have a browse and learn a bit more about the village. It's not hard to see why Polperro inspires so much art.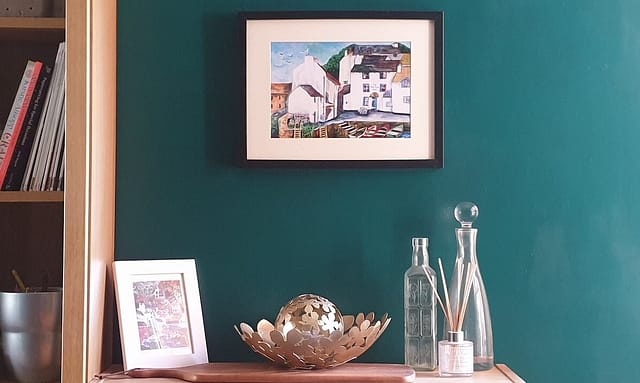 There's also a museum and a model village right in Polperro itself. They weren't open when we visited so I'm afraid I can't provide any insight into what they're like.
You can spend time aimlessly wandering around the village, there are pretty houses, breathtaking views and you also get a bit of a workout thanks to the hills. The harbour is very tidal which means the outlook is always changing. We even got to see seagulls feasting on the crabs that revealed themselves at low tide.
Our favourite activity was walking the South West Coastal Path. We're not experienced hikers but the route from Polperro to Talland Bay suited us. The walk is pretty but there were some perilous sections that made me grateful for the sensible footwear choices. Even on a hot, sunny day, please, whatever you do, don't attempt the coastal path in just flip-flops! We didn't have an official map, just our phones, so there was a point where we, ahem… didn't take the most direct route – but as it's a coastal path you can' really get lost.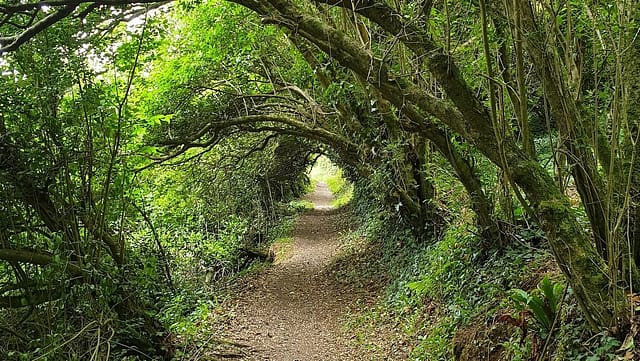 When you reach Talland bay there is a cafe to grab a refreshment while you admire the scenery. We didn't have amazing weather on our visit but it made a nice spot to sit for an hour – albeit with a jacket on. On another day we did attempt to walk the path in the other direction however, fear of plummeting to our deaths meant that journey was cut a little bit short. There are some local buses in the area so it's possible to combine a walk with a bus ride if you don't fancy going both ways on foot.
Polperro even has its own small, town beach which a large cave – the Willy Wilcox Cave. The legend goes that the cave was named after the smuggler who drowned there when he was hiding from the authorities.
There are obviously other Cornwall delights a short (or longer) car journey away. Polperro makes a great base to explore the wider area, if you don't mind navigating the windy roads again.
Where to eat & drink
Polperro has a handful of pubs, cafes, restaurants and shops – you won't go hungry. Due to covid, we were restricted, or blessed (depending on your viewpoint), with al fresco dining. Some places, unfortunately, weren't open on our first visit as they were busy trying to see how they could make their venues work with social distancing, putting in one-way systems and generally aiming to see how they could safely operate in a global pandemic.
The three pilchards is a welcoming pub and restaurant. We walked the steep staircase to sit on their outdoor terrace which had awesome views across the village and out to sea. The food was tasty and the service friendly, what more could you want?
On the road out of the harbour, there are lots of choices, ranging from bakeries to grab a pasty while you're walking along all the way through to something a bit more formal for dinner. You can even grab a fresh crab sandwich or a full cream tea (I have mine the right way, the Cornish way, jam then cream). If you've got a sweet tooth you can wrap things up with some local fudge or, my preferred choice, ice cream.
As you might expect fish and seafood are popular choices on the menus, however, if you're more of a meat-eater, or veggie is you're go-to, you'll find something tantalising too. I'm a seafood fan, so it was a little bit of heaven for me.
---
This was our first trip when the lockdown was eased (first time around!). In fact, we went there the first weekend we were allowed to stay away. Unfortunately, this meant that not everything was open, so it's safe to say, we didn't get the full Polperro experience. But, we weren't disappointed and we've actually already been back for another visit. This time we stayed in a little house (the Harbourside) right by the Blue Peter Inn – handy!