I really do love the Vietnamese Banh Mi. After I struggled to find one in my local area, I'm attempting to recreate the delicious sandwich at home. It seems like the most challenging aspect is the baguette itself, so I figured I might as well start with trying to get the bread right.
The Vietnamese baguette
This is no ordinary baguette – not that I've ever tried to make those either! The texture is unique so this was always going to require some trial and error. After some research, I settled on a recipe from Danang Cuisine. The good news was that it was easy to follow with a handy video and used standard, easy to get hold of ingredients. So far so good.
On the downside, I am a baking novice, so perhaps shouldn't have made the Banh Mi baguette my first bread attempt – c'est la vie!
It actually went pretty well and I ended up with edible bread, a big pat on the back for me. However, it did end up like a more traditional French baguette, it was more dense and doughy, rather than the light and flaky baguette that I was after. I would like to point out that in no way is this a reflection on the recipe. There were a few things that I did/didn't do which I think are to blame! 
I didn't have a spray bottle for water so I had to sprinkle water (for sprinkle read wildly fling with my hands) on the bread and inside the oven

The dough was originally very 'wet' so I added more flour

I also didn't have a sharp enough blade for the slashes 
If you are considering making the bread yourself, make sure you leave enough time, I started a bit late in the day and ended up getting it out of the oven at about 11.30 pm!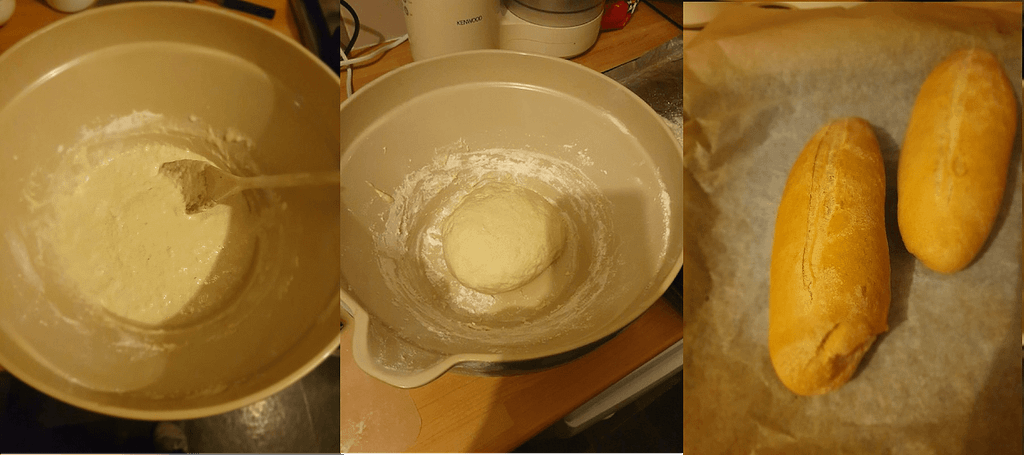 The crunchy tang of the pickled veg
Aside from the baguette, the pickled veg was the other main stand-out part of the Banh Mi for me. Luckily this is pretty quick and easy to do, once I worked out what the 'white' stuff was. Turns out it's Daikon radish – not something I had heard of or used before, however, it's available at Tesco!
I used a combination of radish and carrot and followed another recipe, this time from
food & wine.
 Most recipes seem pretty similar, basically vinegar and some sugar. The best part about the veg is that you can use it to pep up other sandwiches and salads. A great discovery and addition to my somewhat limited repertoire.
Alongside the pickled veg, I also added cucumber (seeds taken out so it's not too watery) and some coriander – I am definitely in the 'love it' camp when it comes to coriander!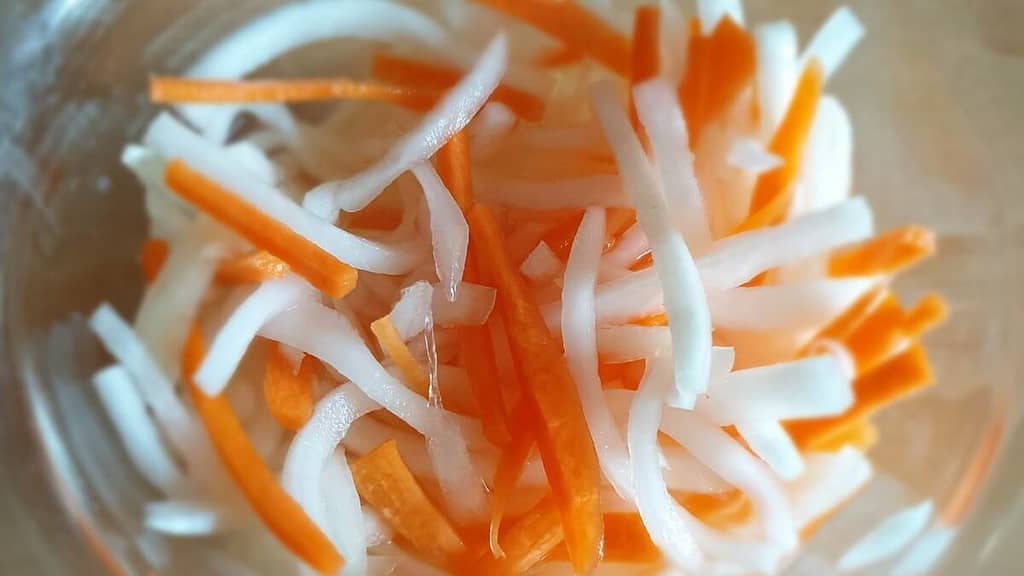 The filling
Typically when it comes to a sandwich I would say that the filling is the main event, but the Banh Mi might be the exception to the rule. Eventually, I'm aiming to get to the stage where I make every element of the Banh Mi at home, but I didn't want to go crazy with attempt one, baby steps and all that. So, basically for the filling, I cheated. I bought pâté and some marinated pork to add in.
All in all, I was pretty happy with my first attempt. It was by no means perfect but it did taste pretty good and looked quite appetising too, even if I do say so myself. 
What's your suggested filling for the homemade Banh Mi?