When we're in Bangkok, one of our go-to lunches is Chinese style crispy pork belly.
Stalls in food courts have the pork (and often duck too) hanging up on display, tempting you in. You can see how the skin has crackled and bubbled up, making it almost impossible to tear yourself away and choose something else.  We first discovered the dish at the famous Soi 38 food court, which unfortunately has become a glimmer of its former self.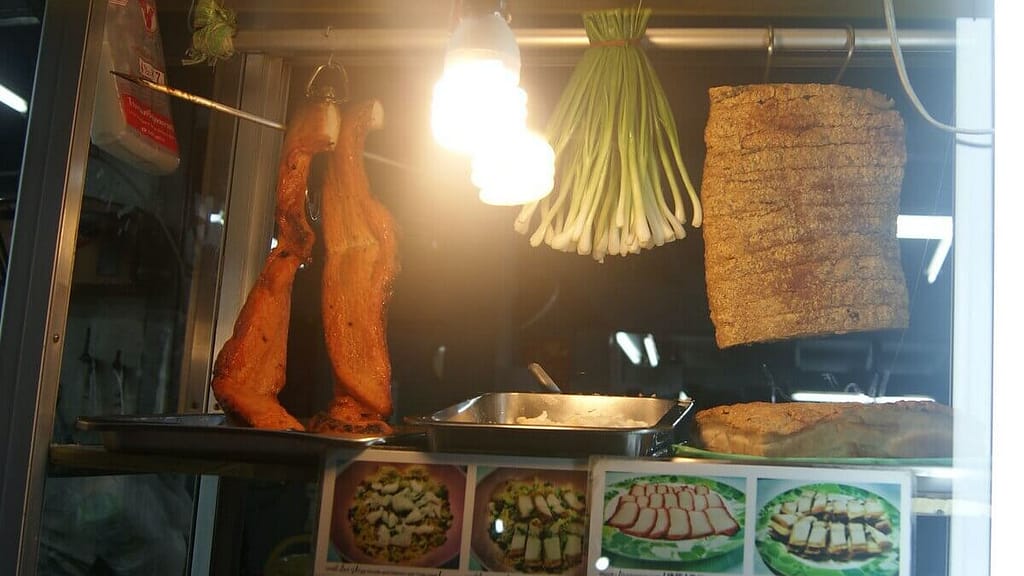 It's so moreish, which isn't good for the faint-hearted, or for anyone watching their calories, but this is a classic for good reason. The portions tend not to be huge though and it's fantastic value which lessen the guilt! We always tell ourselves we should try something different, but we seem to return to it again and again. 
What makes crispy pork so tasty?
The skin is super crispy and perfectly complements the juicy meat. Each bite is a little bit of deliciousness with a satisfying crunch. It's paired with rice and cucumber that cuts through the inevitable, but oh so tasty fat. There's also usually the option of some sauces to pimp up the dish, escalating plain rice to something infinitely more flavorful. And of course, chillies make everything better.
Here's a snap from the popular terminal 21 foodcourt in Bangkok (as you can see we couldn't wait to tuck in!)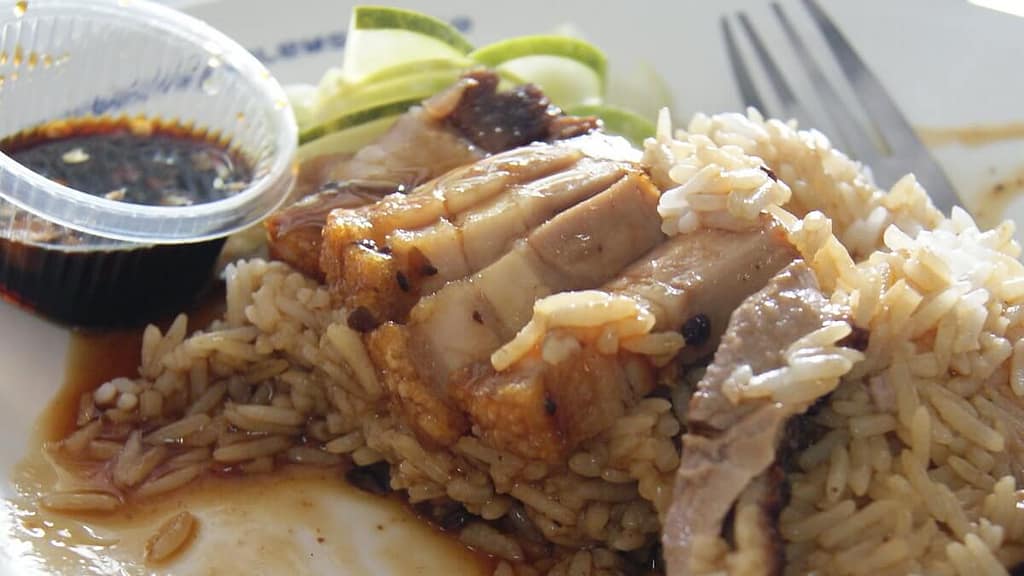 Making crispy pork at home
We don't eat pork that much at home, except for bacon and sausages and the obvious go-to pulled pork – we own a slow cooker after all! But, I saw Rick Stein cook this on a TV re-run, and as we're stuck at home and pork belly was available in the supermarket, I thought it was about time I gave it a go.
Confession time. Although it's a Chinese classic I did search for Rick Stein's recipe. Please hear me out…
It looked simple to do and had ingredients I already had or could easily get in the UK

The measurements would be UK friendly (can't be doing with 'cups'!)

He made it at home rather than with any fancy equipment
Ironically enough, I couldn't find the recipe on his website, but Pigeon Cottage Kitchen have written up a version which was easy to follow, and I'm glad to say, had great results. Here's the proof!
Warning – injury alert! Be really careful at the stage when you jab holes into the skin with a skewer, this almost didn't end well for my hand. 
Only got pork belly strips? No problem
I couldn't find a whole piece of pork belly, so I bought strips instead. I followed the process but reduced the cooking time. If you do the same, it probably needs 15 mins at the high temp plus another hour at the lower setting. This still gives you the all-important crispy skin, without drying out the meat.
The flavours from the rub were sumptuous and I think next time I could get away with adding slightly more as it was quite subtle. I was well behaved and actually followed the instructions to marinate for around 8 hours, so make sure that you plan that in.
Any leftovers make a tasty salty snack, think of it like extreme pork scratchings (hairs not included, do they freak anyone else out?). Perfect with an icy cold beverage.
All in all, this is a great meal. It takes a bit of prep, but is really simple, plus the pork belly is one of the cheaper cuts so it makes for an affordable dinner.