We had some days booked off a while ago, which happily coincided with the easing of the lockdown – there wasn't really the option to travel abroad, so staycation here we come!
Although we are 'allowed' to travel more, stay overnight and are being welcomed into pubs and restaurants, I was still apprehensive about a post-lockdown holiday in the UK. 
I find myself feeling uncomfortable in crowds, or when people just seem too close. It's weird when strangers are closer to me than my own family has been. I've always been fine with crowds, but have to admit I've never been a fan of personal space invaders!
If like me, you're a bit anxious about the prospect of travelling, here are some tips to ease you back in to travelling in 2020.
Do your homework
I love a bit of research, especially when it comes to new destinations. So, this isn't specifically related to a post-lockdown journey I guess, but it seems even more vital now.
We wanted to be sure we were heading somewhere with a few things to do, places to get food – I just can't class it as a break if I still have to cook! And, somewhere not too busy. My worst nightmare is a packed beach with closely packed rows of sunbeds, even the thought of it sends a shiver down my spine. Believe me, waking up from a lazy beach slumber to someone else's arse, is not the holiday dream you're looking for. 
We didn't have sunbathing weather, but we've become proficient at searching out beautiful destinations with a more traditional and laid back feel, which are ideal to stroll around regardless fo the weather. The kind of place where people still greet each other as you pass on the street.
It's also worth checking out what's open at your destination. We found that a few places were closed on certain days or not yet open at all. It didn't spoil our visit, but it was good to have an idea of was available before we set off. We also could see what places were offering take-aways and outdoor seating options. I found that quite a few websites and Google results weren't that reliable, but facebook and instagram pages were up to date.
Pick somewhere with a view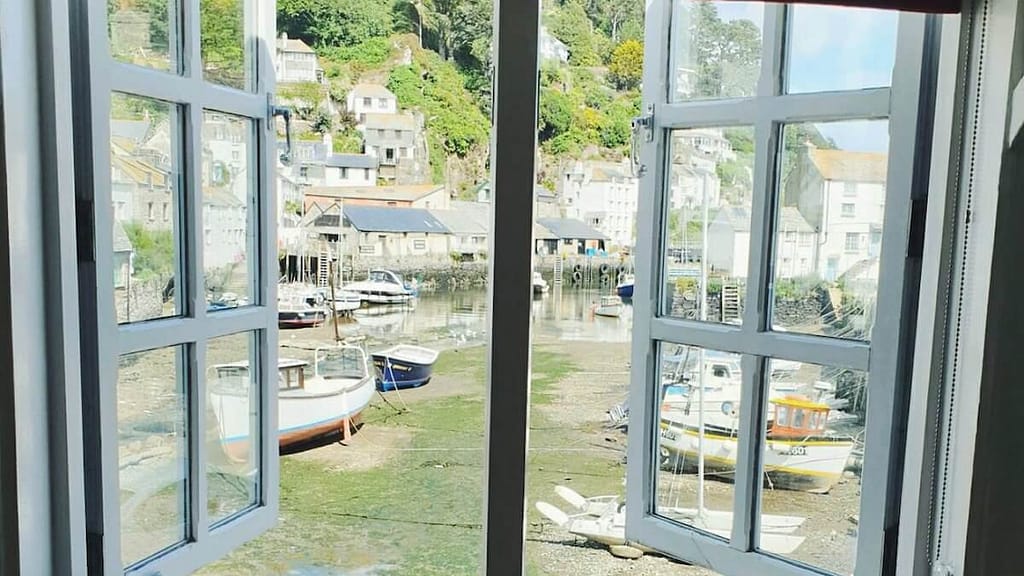 This is something we consider when booking anywhere but on this trip, it made a huge impact. Part of our reason for having a break to Cornwall was the opportunity to simply see something different!
Granted, rooms with a view tend to come with an increased price tag, but for us, this was definitely worth the extra pennies. If the weather isn't perfect for being outside (who knew May in the UK would beat July in the temperature stakes?), or you'd prefer to cook for yourselves or get a takeaway rather than eat out, having a view can make all the difference.
You can get the benefit of knowing that you're somewhere different, without the concern of being rammed together with people you barely know. 
Our view was divine, we opened up the windows and plonked ourselves down overlooking a gorgeous harbour. For the slightly chilly evenings, we packed a blanket, so it was feet up, drink in hand, as we soaked it all in.
Opt for Self-catering
Even if you barely cook, a fridge to keep the beer and tonic cold is always a bonus! 
We were able to eat out and get food around the village quite easily. However, we did see people queuing at some venues and not everything was open, so I'm glad we had the option of cooking in case we needed it. 
Our apartment also came with a spacious living area, including a dining table and large TV – perfect for those nights in. We probably spent more time in our apartment than we usually would. I'm not convinced if this was due to the current climate, or just simply because it was so cute! We had everything we needed, plus THAT view.
Be prepared for some changes
This was made obvious to us when we booked the accommodation, but it's worth checking before you commit. 
A few things that were different for us included:
Late check-in and early check-out.
I won't lie, the timings weren't ideal, but were understandable. It was to give them more time between bookings for airing out the property and additional cleaning. So be warned, there was no opportunity for a lazy start or lie-in on the last day. We also had to allow extra time for point 2 below!
Bed stripping.
This felt quite unusual, but I hate the making of the bed the most, so this was the lesser of 2 evils. We had some instructions to follow to strip the duvet, sheets and pillowcases, these were placed into bags for the cleaners to collect once we had left. We also had to empty the bins. Not the most glamorous part of the stay, but really not that bad either.
Remotes in plastic bags.
The TV remotes had been placed into plastic sandwich bags which needed to be left on throughout our visit. This didn't bother us at all, but it was just a reminder that things aren't back to normal quite yet.
Opening all the windows.
We were asked to open up all the windows in the property before we left – and there were quite a few! Even if it was raining.
Things take a little bit longer.
We were never in a rush, so this didn't negatively impact us, but everything took a bit longer than usual. And I can imagine that some people get a bit frustrated. It might be a queue for a shop, as there are restrictions on numbers, the extra time needed to order a drink, as people are sanitising their hands and doing their best to social distance, or just standing to one side as you wait for people to pass safely on a narrow path. Take your time. Relax. You're on holiday after all.
Giving your details. Pretty much everywhere we went for food and drinks, even when sitting outside, we had to give out contact details. We've not had any calls yet (fingers crossed), but it was good to see they were taking things seriously and helping with the track and trace effort.
Although some of this new protocol felt a bit odd, I did feel safe. Everything seemed spotlessly clean and we were given details about all the changes, so no nasty surprises.  
If you can, drive
I am usually a big fan of trains. However, I was anxious about being on public transport for a prolonged period of time. 
Plus, the trains to Cornwall aren't the most frequent and typically would involve quite a convoluted journey. So, the car was our transport of choice. This also gave us the option to take what we wanted without any real baggage limitations – which is a win, as I'm a bit out of practice with my packing skills, and there were a few extras we wanted to take, that usually might not make the cut.
The (new) essentials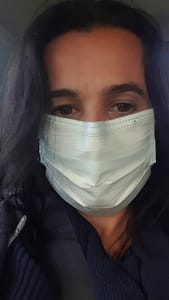 Face masks
As it turns out we weren't required to wear a mask anywhere we visited and we also didn't feel the need to put them on. But, I am glad we had them just in case. 
Hand sanitizer
All the venues we went to were fully stocked, but it never hurts to have your own. Obviously, hand washing is best, but this was a good back up when we were out and about. Handy for when you've opened (and close) some gates on a coastal walk. 
Anti-bac wipes
Not really needed, but another good back-up option, you never know when you might want to give a surface a cursory wipe. All the tables etc., where we went were being wiped down between guests, but it's good to be able to do this yourself if you have any concerns.
Snacks
Standard packing for a road trip and any stay away. With some shops not being open and the threat of long queues we went prepared. Our accommodation also left us a small care package which was lovely.
Blanket! 
Ok, so this is probably not an official essential, but it's going on my list in the future. There's something so comforting about being snuggled under a blanket, with the windows open, a nice glass of red and some stunning scenery to gaze out on.
Things might seem a bit out of the ordinary, but the feeling you get is the same – from the anticipation in the planning, to the bittersweet emotion on the journey home.
I wouldn't hesitate getting away again, as long as the location is right and it feels safe to do so.
---
Have you started planning your first post lockdown trip?