This foodie tale begins on the Island of Paxos, in Greece. There isn't an airport, but it's a short ferry ride from Corfu. We were staying in the pretty little fishing village of Loggos, the smallest of the 3 main tourist spots on the island.
There are several beaches to choose from near Loggos, we decided to give Monodendri beach a go. In my usual way, I take a look and think….we can walk that. Well, it seems important to try and counteract the excess of food and drink with some kind of exercise.
The hunt for the perfect lunch spot
We set off and soon realise that it's actually quite far, especially under the heat of the scorching sun. You know how it goes though, once you've gone so far, you might as well carry on. Just me? In fairness, I'd read about a cut through a resort, but that had closed. Oops.
It wasn't all in vain though. Monodendri beach was stunning. Everything you imagine from a Greek island. Crystal clear turquoise water and the kind of white pebbles that have you cursing your way to the sea, as you try to limit the third degree burns to your feet. All topped off with a classic beachside taverna, offering the all important free sunbed in exchange for a purchase. Perfect for a spot of lunch and an ice-cold beverage – bliss!
Ben's bar is a little piece of heaven. Not only for refreshments and other (ahem) vital facilities, but also some much needed shade.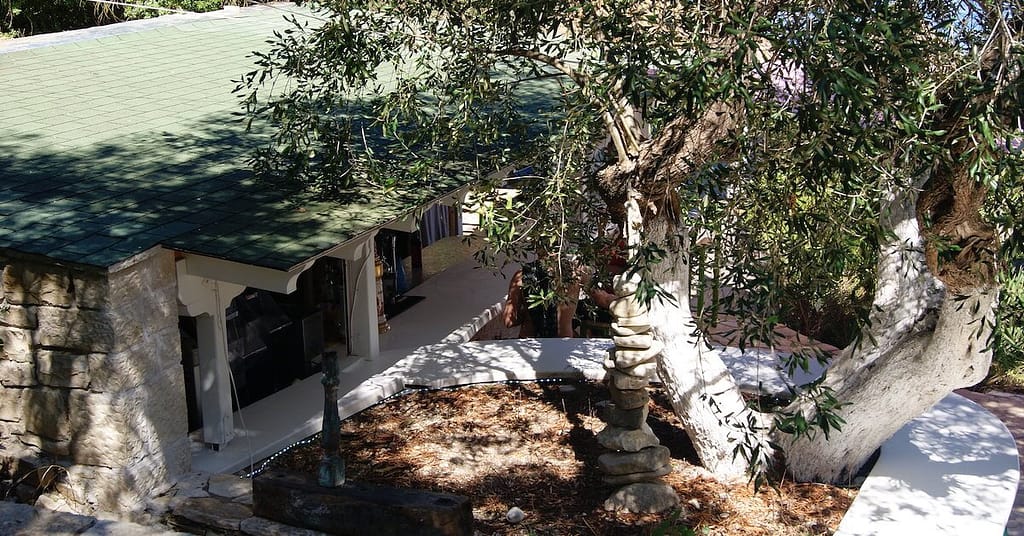 A Greek salad, but not as you know it
One of the best things about visiting Greece is the lazy lunch. I'm a Greek salad kinda girl usually, the tomatoes back home are never as juicy or flavourful, are they? It's my go-to lunch option, always available and always delicious. But, at this spot, something else caught my eye.
I'll give you a clue…it has 8 legs.  And no, it's not a spider.
I know that some people turn their noses up at the mere thought of eating seafood, let alone octopus. Not me, I'm firmly in the 'love' camp.
I find myself hunting it out, especially in the Med. I've had a whole grilled tentacle (make sure you read that right!), at the Mercado Central de Atarazanas in Malaga. Octopus Stifado in a quaint Greek mainland fishing village. And Octopus on potato with Paprika oil (aka Pulpo a la Gallega), in Puerto Pollensa. Who knew it was so versatile?
To put your mind at ease, and alleviate any concerns you might have. No, it's not chewy and no, the suckers don't stick to your throat when you shallow. Apparently this is a genuine concern for some people.
Anyway, back to Paxos. This salad consisted of wafer thin slices of succulent octopus. This makes it perfect for those with a sucker phobia! (unhelpful fact: the official term for the fear of Octopuses is Chapodiphobia). It's paired with sliced tomatoes, lettuce, toasted pine nuts, pomegranate and sesame seeds. And I'm sure a healthy dose of olive oil.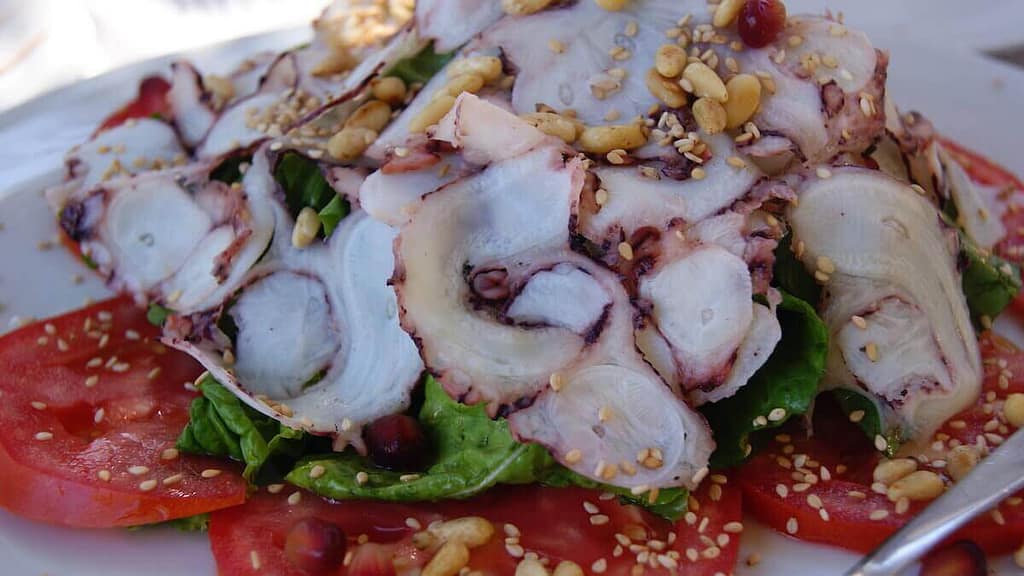 A perfect salad in a dreamy setting, accompanied by the genuinely warm Greek hospitality. What's not to love?
If that wasn't enough, Ben's Bar also has an abundance of rum (I expect other drinks are also available, but I stopped looking). Ben is enthusiastic to offer, and partake in, an afternoon shot of Havana Club, which just happens to be my favourite. If that doesn't scream 'this place is for you', I'm not sure what would.
As the afternoon wore on, the thought of walking back was not overly appealing, not helped by the rum. Luckily enough, a couple overheard our dilemma and offered us a lift back. It turns out they were practically staying next door. We visited the beach several times again. Often our new friends would arrange to take us in their car. Ironically, we also learnt to appreciate the walk. Isn't it great when things just work out.
I hope I've inspired you to give this octopus salad a go. It's not as scary as it looks. Promise.