It's a strange time for us all at the moment.
Us budding adventurers have had to put our travel plans on hold. Luckily though, there's some marvellous technology out there that can whisk you away to anywhere in the world, from the comfort of your phone. 
So sit back, relax and embrace these fun activities to satisfy your travel itch (at least for the time being).
Experience an awesome virtual trip
Whether you fancy a trip to a famous landmark, museum, national park, aquarium, or zoo – they're all up for grabs. 
Ok, this isn't the same as going in person.  But, it is a way to visit those places you couldn't fit in to your travels or haven't gotten round to yet. You can even visit every continent in a day. 
As it's free, if you don't like somewhere you can leave. Plus, there's no dress code or rules about taking in drinks and snacks. So, time to unleash that curiosity.
Google's Art & Culture Section is a great place to start with heaps of options. You can walk around Angkor Wat without the oppressive heat, tour the Eiffel tower with no queues, or sample the vastness of the Grand Canyon. The world, as they say, is your oyster!
Lust over locations with a Facebook destination quiz
The destination list is doing the rounds on Facebook. You copy and paste it into your status and put a plane emoji next to the destinations you've been to.
It's a unique way to reminisce about all the forgotten places you've been – so many happy memories.  And, a way to get that all important enticing inspiration for future trips. The best thing is, you can see where your friends have been; ideal for hitting up for those tried and tested recommendations.
Peak inside jaw-dropping luxury hotels
Who doesn't love a good nose around homes and hotels to see how the other half live? It can't only be me that scours rightmove with no upper budget limit set?
Never been to the Maldives?  Now's your chance.
Loads of hotels offer 360 tours to give you a glimpse into the delights that await, including this one from Hilton. You might not end up going, but it's fun to explore and picture yourself lounging on your private over-the-water bungalow.
Delight in a virtual safari with Google animals
It's not quite a safari, but you do get up close to some wild animals, so I'm taking some creative licence with this one.
I also don't care if it's designed for kids. I love it.
We've had a tiger in the kitchen and a turtle in the lounge.  Whatever your age, get some khaki on and give it a go.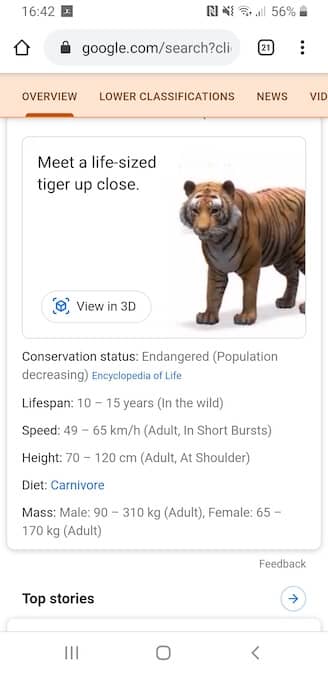 If you've not seen it yet, you google an animal on your phone.
You may have to scroll down a bit until you see the 'Meet a life-sized (animal) up close' – not every single animal is available, but there is an impressive range.
Click on 'view in 3D' and you're away!
Hours of entertainment right there.
If you've found any great sites or apps let me know. I might need some new travel-related forms of entertainment to add to the list.